MiRider One Folder
The MiRider One folder is a 16″ wheel, fully folding electric bike. It weighs in at around 17kg and packs a real punch thanks to its powerful motor!
It has an incredibly compact folded size of just 58cm(H) x 78cm(L) x 46cm(W).
This little gem is all about its foldability and takes just seconds. With this in mind, it's the ideal ebike to transport literally anywhere! The MiRider One is the smallest folding ebike that we offer. With its 16″ wheels and easy fold mechanism, it fits into any car boot space with ease. Furthermore, the lightweight nature of the bike means its not a struggle lifting it in or out. Ideal for general town use, trips away, and for motorhome and caravan owners alike, the MiRider is a real beauty.
Smooth and Responsive
Boasting the latest sinewave controller, the MiRiDER One feels smooth, responsive and powerful. The high quality 250w rear hub-motor assists when pedalling up to 15.5 mph.
Using the bike is simple and intuitive. Simply get on and pedal like every normal pedelec. However, there's more! On the right of the bars is a thumb throttle which provides walk assistance up to 4 mph. In addition, the same control doubles up as a boost button up to speeds of 15.5 mph for those steep hills or windy days.
The innovative frame is die-cast, breaking away from the traditional welding process to create a streamline chassis with a slick, enviable design. It's very sturdy. The frame is made from aircraft grade magnesium alloy, making it impressively lightweight at just 17.3kg. Furthermore, it offers great shock and corrosion resistance. Performing superbly in any urban environment, the MiRiDER One's rear shock absorber and medium-width Schwalbe tyres provide a consistently comfortable ride.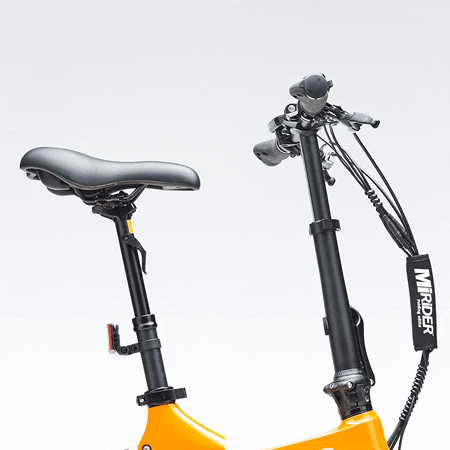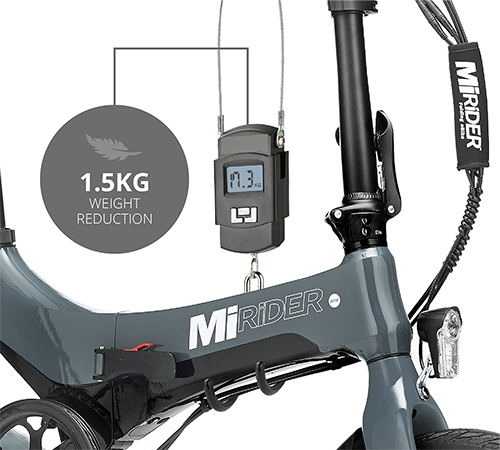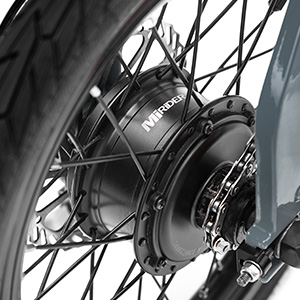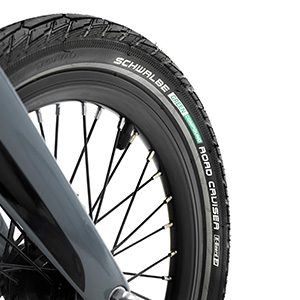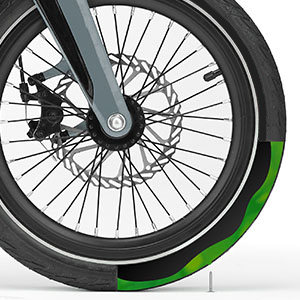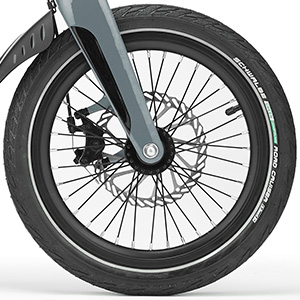 Battery Size and Power on the MiRider One
The 252Wh battery on the MiRider One provides great mileage thanks to a clever power management system. It comprises genuine SAMSUNG cells. Up to 45 miles of assisted cycling can be made from a single charge. That's 4.5 hours of riding at 10 mph! That's plenty of time for a leisurely ride, a trip to the shops or commute to work.
For those who like to live life in the fast lane, or seek a little more range then a spare battery weighs in at only 1.2kg. Easily transportable.
The rear motor means more pulling power than a crank drive. The Mirider One has no trouble whatsoever climbing the steepest of hills.
Single Speed – NO WORRIES!
The MiRiDER One is a single speed bike, meaning it has just the one gear. Through extensive testing, MiRider have found the best single gear for optimum comfort when cruising at 15 mph. As a consequence, this means less maintenance than a multi-speed derailleur. Also, the large front sprocket ensures spot on cadence when pedalling on the flat and on hills.
Here at OnBike, we're not used to single speed eBikes so we put the MiRider through its paces on all terrain, including steep hills. The pulling power is amazing, as is the ride comfort and handling!
See our full range of MiRider ebikes HERE.