GAZELLE Electric Bikes
Gazelle is the biggest name in the Netherlands, and quite rightly so!
Read more >>

Royal Dutch Gazelle employs around 350 workers at its Dieren factory in the eastern Netherlands. They produce more than 250,000 bicycles a year. The brand is highly prestigious and the market leader in the Netherlands. Incorporated in 1892, Gazelle has always put quality first. So much so that in 1996, their quality system was certified in accordance with ISO 9001. They are the only Dutch bicycle manufacturer with this certification.
The word 'Royal' from Royal Dutch Gazelle was awarded by Princess Margaret on the occasion of centenary celebrations in 1992. The company has a belief that the better the bike is, the more often it will be cycled! On that basis, the company strive to continually access and improve their e-bikes at all times.
Gazelle are renowned for making luxurious, touring e-bikes that provide the smoothest and most comfortable ride possible.
Smooth cycling – Ease and comfort
Regardless as to whether it's a quick ride into town or a long touring ride, 'smooth cycling' will make it a lot more comfortable. Continuous improvements on weight saving are made to their models making them lighter each time. They are in fact around 10% lighter than comparable quality bikes!
Smart design – Striking and ingenious
We all know that choosing a bike is personal. The world would be a very dull place if we all chose and rode the same e-bike! That is why there's a wide range of models, price brackets and colours.
Robust quality – Durable and safe
Gazelle are so confident about their quality standards that they offer a 10 year warranty on all frames and non-suspension front forks, and 2 years on all other components. The paintwork on each bike is well known for being indestructible. It's rock-hard and scratch-resistant in every colour. This level of durability helps pay for itself in lower maintenance costs and value retention.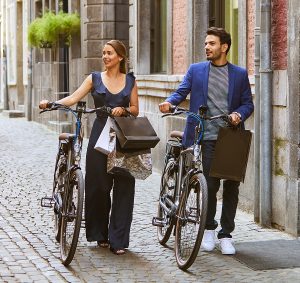 Gazelle Electric Bike Range: Luxurious Leisure Bikes
The electric bike range from Gazelle is all about ultra comfort and build qulaity excellence.
They offer a wide range of luxury e-bikes in a number of designs and price points. Choose from either Shimano or Bosch motor drives, and various battery size options. In addition, many models come in a choice of colours.
Built to extremely high standards and featuring some unique designs and features, Gazelle is the 'Rolls-Royce' of e-bikes.
Read less >>