Great News! There's never been a better time to invest in electric mountain bikes, or eMTBs as some folk like to call them. There's great styling, great drive systems, and a plethora of options and component levels. This short article aims to identify some of the good things about eMTBs, and what makes them special! Strictly speaking, eMTBs don't have to have full suspension, but most of us think of them as sporting both front AND rear shocks. However..there's nothing at all wrong with hard tail MTBs – it's all about the purpose the bike will be put to.
eMTBs: Features & Benefits (Full Suspension)
Electric mountain bikes tend to come up a tad smaller than your standard trekking/touring bike, and smaller still than a road bike. It's all about the frame geometry and handling. Don't be surprised if your beloved 54cm roadie isn't available in an MTB of the same size – it's perfectly normal (and correct) to go for a frame that's smaller by several centimeters.
Below are a few reasons why an electric mountain bike could provide the perfect solution:
Terrain
It's pretty obvious really to say that a full suspension electric mountain bike will manage far better in both comfort and performance with challenging, rough terrain that comprises both ups and downs. It's the versatility of the bike and its ability to cope with such extremes that also dictates a smaller frame.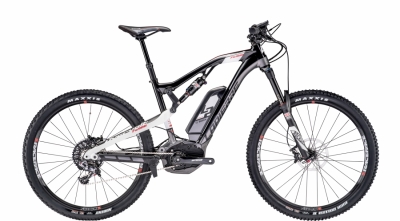 Handling
The bike will handle far better with suspension, as this allows the tyres to track the ground better, and adhere to it. Much better for cornering. Much better for climbing. Good suspension isn't all about absorbing the bumpiness of the ground. It reduces the chance of coming off.
Comfort
Comfort is one of the major assets of electric mountain bikes. For those that pound the trails regularly, it means far less stress on the body. Rear suspension provides the majority of relief!
** This is where the eMTB comes into its own and has a far wider use. Change the tyres onto slicker and narrower, and you have an extremely flexible and versatile machine that provides ultra comfort on ANY terrain, and ANY elevation.

Speed
Combine extra traction with the absorbency of a full suspension electric mountain bike, and the result is a very fast, downhill bike. The downhill racers left behind the hard tails when full suspension bikes became available!
Fun…!
Let's not forget the fun element in all electric bikes, and the avenue they open to us all. With better handling, traction, comfort and speed, the electric mountain bike is a fine choice for everyone!
OnBike has a wide and varied selection of electric mountain bikes looking for good homes!