MOUSTACHE Electric Bikes
Moustache electric bikes represent a fun, and modern approach to cycling, with each bike being uniquely styled, easily recognisable and bearing a strong identity.
Read more >>

Based in Vosges, France, Moustache classify their bikes into four different styles; city, urban, all road and MTB. Powered by Bosch, these chic electric bikes are extremely well appointed, and use the very best components in the industry. The result is a wide range of styles and designs that will appeal to both ladies and gentlemen seeking the very best in electric bikes.
The company was formed in 2011 by just two people. Today, it employs over 50 and is recruiting on a monthly basis. Famous for its 'M' shaped handlebar on some of its touring bikes, this range of e-bikes is modern and contemporary. Each model within the range is unique, very recognisable and has a strong identity. French chic is undoubtedly what the Moustache brand is all about. However…don't be fooled into thinking that only leisurely touring bikes are on offer. This strong french player produces some of the finest electric mountain bikes in the world also!
Moustache frame designs & battery integration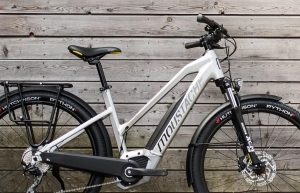 Every Moustache e-bike is powered by Bosch, and this helps focus attention on frame design. Bikes with batteries sited on the down-tube all have semi-integration within the frame. You'll not find any Bosch PowerTubes on these bikes but instead will enjoy cleverly designed frames with beautiful aesthetics. Stiff and hard wearing yet light, these aluminium alloy frames are designed like no other.
Rear carrier batteries are contained within a specially designed rack that accepts Ortlieb panniers, the very best in German bicycle luggage. Finally, there's not a flimsy mudguard to be found on any of the bikes. Moustache are very proud of their uniquely designed guards. These exclusive mudguards are tubular, stiff, yet still very lightweight! In addition, unlike most other guards, they're concentric to the wheel, so it's easier on your eyes too.
Owning a Moustache e-bike is being individual.
Read less >>