CUBE Electric Bikes
The FULL range of CUBE bikes is available NOW from OnBike!
Read more >>

CUBE Bikes was founded in 1993 by student Marcus Pürner. Initially, he started by sourcing bicycle frames himself, then trading in Europe to fund his way through university. He was working from just a  50m² corner of his parents' furniture warehouse in Waldershof, Germany. Today, the company has expanded its production area to 20,000m² and sells to more than 60 countries all over the world. They are now the market leader in Germany and Holland for the medium to high end road-bike and MTB segment.
All CUBE bikes are developed and tested in and around the Bavarian Alps as well as the factory in Waldershof, Germany.
This demanding terrain provides the ideal base on which the bikes are put through their paces; plenty of mud and lots of fast technical descents and climbs. The Waldershof factory themselves complete all the quality checks, reaming, facing and assembly. CUBE has total control of the finished product to ensure the highest quality standards are met.
The company is noted for having forward thinking products with premium specs, designed and tested in the Alps by time-served passionate cyclists and German engineers.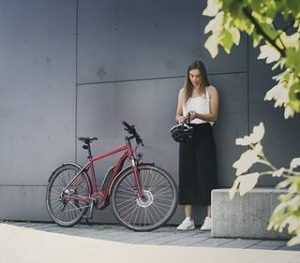 Cube Electric Bike Range: eMTB, Touring, Trekking & Road Bikes
The 2018 CUBE product range consists of 260 different Mountain, Road, Cross, Triathlon, Touring and Electric Bikes. Many are available as ergonomically adapted women's bikes too, that embrace female-orientated geometry.
Within each category is a large offering of sizes, options and accessories for each bike. In addition, to complement their wide range of cycles is a large clothing range also. The bikes themselves are unique in many ways, with innovative frame designs and superb build quality.
High end components, great looks and performance to match make CUBE a very strong player in the market.
Read less >>