Electric Mountain Bikes
Electric mountain bikes (or eMTBs are they are known) provide the base on which to enjoy the thrills and spills of riding off road.
Read more >>
These majestic creatures are for the most rugged of terrain, and ensure an exhilarating experience every time. Brimming with features, eMTBs come with deep tread tyres, long travel suspension forks, and the best motor drives on the market. In fact, many have dropper seatposts allowing the rider to sit low and stay safe on the descents.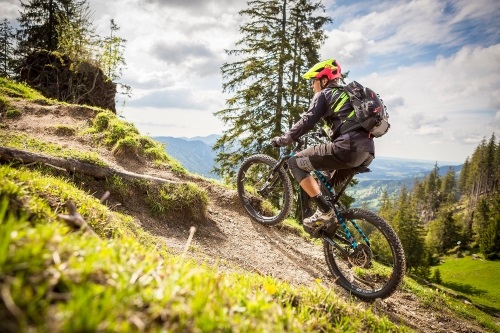 With such striking looks they can be hard to resist even if they're not going to be used down the side of a mountain! With this in mind, many riders customise their eMTBs by adding slicker tyres and gel saddles.
Different Types of Electric Mountain Bikes
There are two types of electric mountain bike. Hardtail and full suspension. Consequently, each has a different purpose.
Hardtail
Hardtail mountain bikes have shocks only in the front fork. Front suspension reduces upper limb fatigue and is more forgiving. In addition, it also helps keep your hands on the handlebars and makes steering easier on rougher trails. They tend to be cheaper than full suspension bikes, and are a good choice for forest trails and less demanding terrain.
Full Suspension
A good full suspension electric mountain bike will cost a little more than a hardtail, but provides greater features and is more versatile. It also offers a higher level of control on rough ground at speed and lends itself to being used on more demanding descents and dirt trails. The dynamic of both front and rear suspension provide a very comfortable riding experience.
In addition, a full sus electric mountain bike can be enjoyed for leisure purposes too as they do add comfort to the ride.
Wheel Size
Most riders are now opting for either a 27.5″ wheel or 29″ (29er). 27.5″ wheels combine the best elements of 26″ and 29″ and provide an agile ride. However, 29"wheels have become much more common in recent years. They offer more momentum overall, and are easier to roll over small objects on the trail. they're a great option for taller riders.
A Great Choice of Electric Mountain Bikes in the UK
Certain manufacturers focus on electric mountain bikes, whilst others offer a more traditional, trekking bike. Take a look at the following prestigious brands who have developed a great range of eMTBs:
A great range to choose from!
The amount of choice, quality and variety of eMTBs ensures that there's something for everyone this season without a doubt!
Read less >>
OUR FULL SELECTION OF BOTH FULL SUSPENSION & HARDTAIL EMTBS