The 2018 range of KTM eBikes are now featuring prominently here at OnBike!
It's been a bit of a wait, but thankfully now many of our highly sort after KTM's have arrived. It's a fabulous range this season with an ebike for everyone! This Austrian giant continues to provide a great range of quality every year.
What's new in the range of KTM eBikes this season?
Gosh, where to start!
Semi Integrated Battery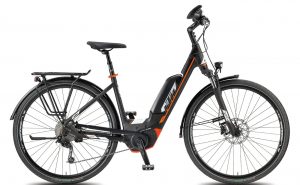 As usual, a core number of KTM ebikes still feature prominently. A good example is the KTM Macina Fun 9 P5 and its sister, the KTM Macina City 8 P5. Essentially the same bike and frame, but geared differently. One has an 8-speed hub, the other a 9-speed derailleur. Both are ultra comfy 'sit up and beg' touring electric bikes. Designed with comfort and ease of use in mind, both of these KTM eBikes deliver solid and powerful performance.
Now with semi-integrated batteries as well as angled motors, these two stars of the show continue to shine. They're powered by a strong 60Nm Bosch Performance motor and each have 500Wh batteries. They look great and ride beautifully.
Hardtail eMTBs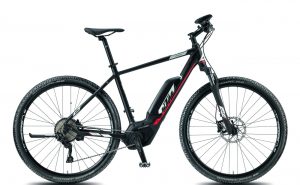 KTM also provide many competitively priced hardtails with similar technology and design as above.
Their range of Cross bikes, such as the KTM Macina Cross 10 CX5 is a simple, no fuss ebike that delivers in every way for only £2,499.00. That's great design as well as Bosch Performance CX and 500Wh of power, all in one!
Fully Integrated Bosch PowerTube
Many of the high spec hardtail eMTBs from KTM now have a fully integrated Bosch PowerTube. Invariably, they also have Bosch CX motors rated at 75Nm coupled with a 500Wh battery.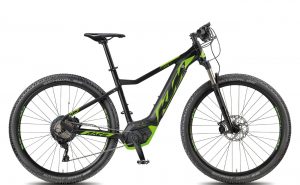 It goes without saying that these KTM eBikes look the business and are gutsy performers over even the roughest terrain. A good example is the KTM Macina Race 292. It's hard to tell that it's an ebike at all!
With so many top notch bikes on offer from KTM, it can be challenging deciding on what's the right choice. We're here to help, so dn't hesitate to give us a call at any time on 01905 611774.
Finally
Oh yes, and one final thought, let's not forget their monster Fat Bike…….!