Moustache Lundi 27.3
The Moustache Lundi 27.3 is a an iconic and timeless classic.
It's fair to say that once in a while, a certain eBike comes along and makes a huge splash! That's the Lundi 27.3. It's unmistakable design make it the most famous within the Moustache range. It features an exclusive Aluminium 6061 T4 T6 frame. It comprises a triple cavity down-tube, making it stiff laterally, stable and absorbing vertical vibrations. The Lundi's impeccable look is aided by cable integration and a front light that is fully embedded in the head-tube. Signature Moustache alloy tubular mudguards are super-stable and define the brand also.
Undoubtedly, the Lundi 27.3 is all about style and comfort, all in one. The world famous Moustache raised handlebar offers an upright and secure position. A suspended seat-post to absorb shocks and wide forgiving Selle Royal Hertz Gel saddle really add to the experience. Schwalbe 27.5×2.4 Super Moto-X tyres absorb every bump and hollow. There's no need for suspension forks on this gem! Designed for easy on and off, the angular open frame is easy to step through. The rear rack comes ready to accept any ORTLIEB pannier, the world's best, with integrated QL3 mounts to attach Moustache ORTLIEB panniers in one click. The frame lock under the seat-stays allow the bike to be secured when left unattended and prevents opportunistic theft.
Lundi 27.3 – Available in a variety of stunning colours: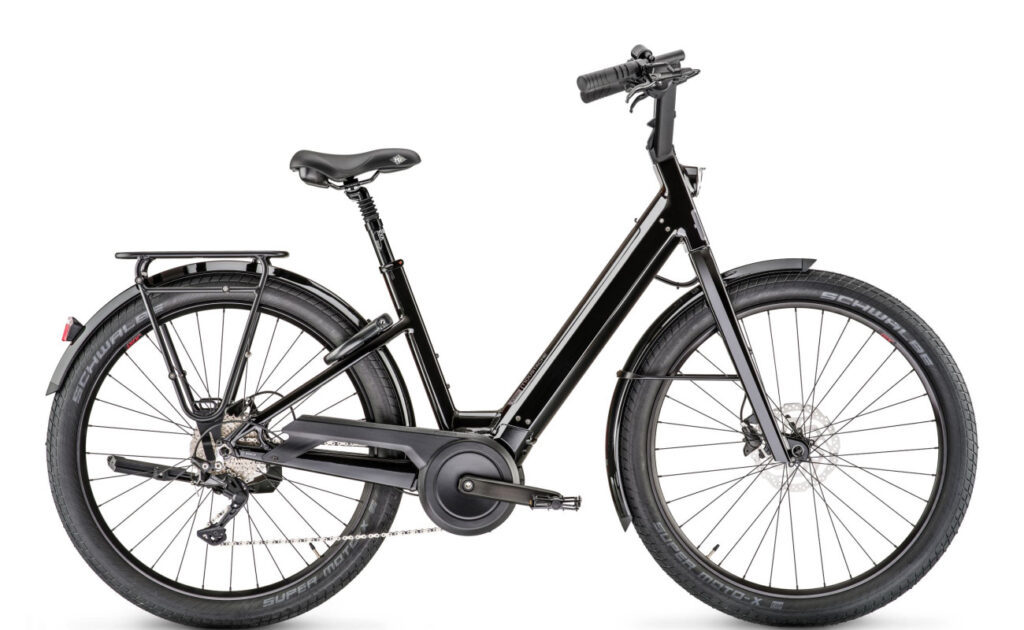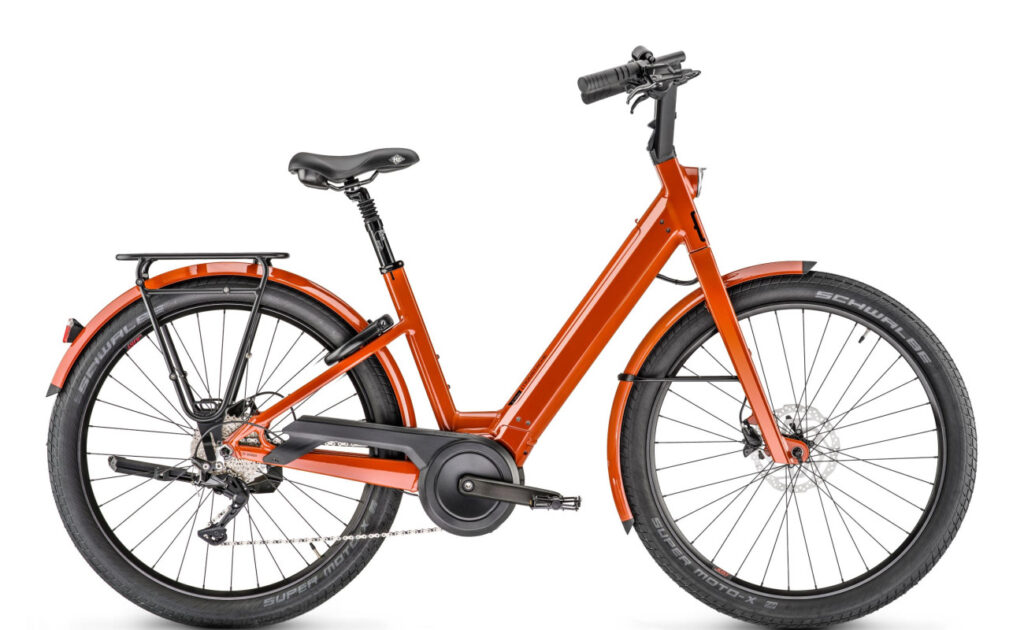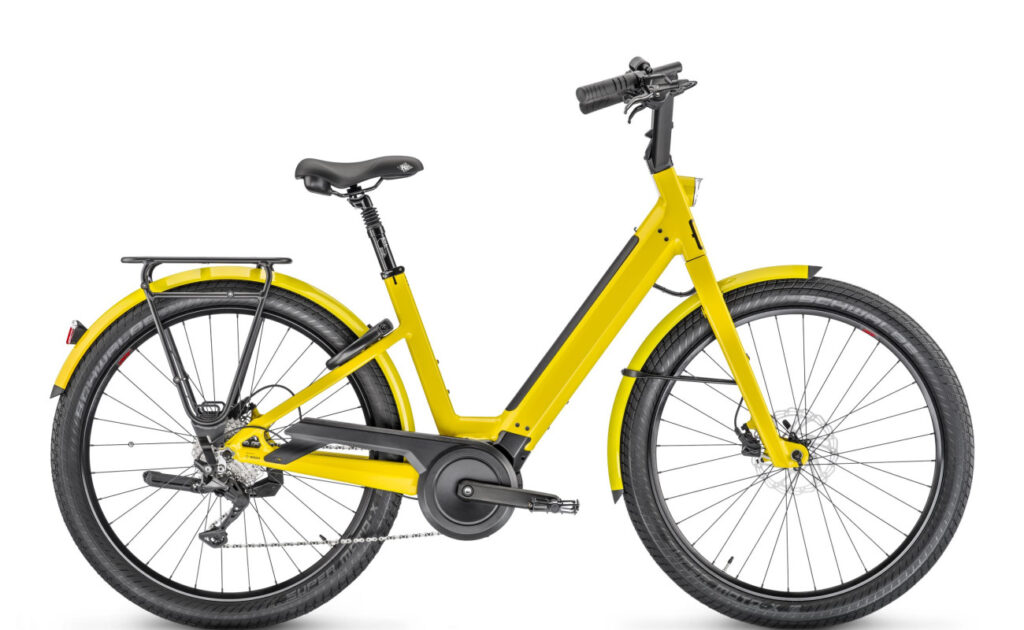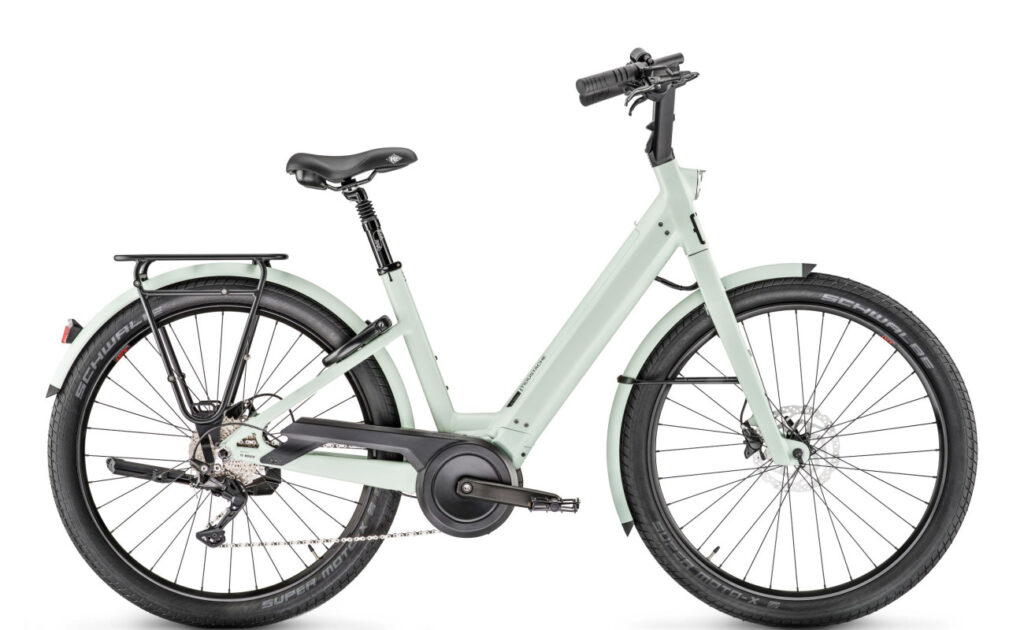 Chic & Comfortable
The super strong Smart System 75Nm Bosch Performance motor is the beating heart of this beauty. It combines with a large 500Wh battery for long range. The Lundi 27.3 is both dynamic and powerful. Riding is a joy. The geometry is ultra comfy and provides the rider with a straight back and better visibility. The frame itself has strong lateral stiffness, and the precisely made 6061 T4 T6 aluminium fork ensures a soft yet responsive feel. Powerful and progressive hydraulic disc brakes ensure safe stopping. Gear shifting is effortless thanks to a Shimano Deore 10-speed derailleur. Hills present no challenge to this classy eBike. In addition, the Lundi 27.3 features an efficient and stylish integrated front light, and bright rear lamp.
The unique angular frame exclusive to Moustache, ergonomic handlebars and tubular mudguards make this touring dame a real eye-catcher. Its highly pleasing performance is matched by its carefully designed frame to produce a superb riding experience that doesn't go unnoticed. The low centre of gravity produce a very stable ride, and make cornering and turning a breeze.
See our full range of Moustache ebikes HERE.