We're delighted to report that OnBike's Demo Day on Sunday 3rd July 2016 was a HUGE success!
Immense thanks go to the wonderful people who attended the event, and also to the suppliers who were instrumental in making the day so special.
Suppliers of Electric Bikes
All of OnBike's main suppliers were in attendance. We'd like to offer our sincere thanks to representatives of the following companies for travelling so far…for giving up their own time on a Sunday…and for bringing so many electric bikes for people to try:
KTM, BH EMOTION, GAZELLE, KOGA, LAPIERRE, MOUSTACHE, RALEIGH, RIESE & MULLER, SCOTT
Unreserved thanks go to Col & Lou (x), Roy, Adam, John, Nick, Gareth, Al & Russ!
The Wonderful People We Met on the Day!
We were all completely shell-shocked at the level of interest! People had travelled not just from the local area, but from all corners of the UK: James from Wrexham for example, Cathy from Somerset, and Brian from Yorkshire to name just a few….!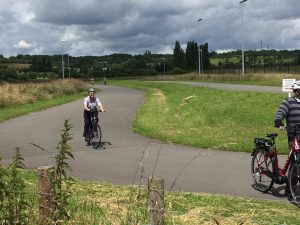 The sun shone brightly, and the cycle track was extremely well used. The facilities at Stourport Sports Club were excellent, with good food and drink enjoyed by us all! Thanks Pete!!
As for the people who inquisitively asked, probed, and rode pretty much every bike over and over….THANK YOU!!!
It was an absolute delight and pleasure speaking to so many like-minded people, from such an array of backgrounds with such a variety of reasons for wanting an electric bike. I'm pleased we had something of everything on offer to wet everyone's appetite. Isn't it funny though…everyone had their own favourite. There's no such thing as 'the best bike' that suits everyone.
Days like these act as a reminder that we're all individuals, and that we all have our own aspirations and desires when it comes to choosing an electric bike.
Thank you everyone for making the day so memorable!