FCA Authorised!
We're delighted to announce that in response to recent changes in legislation, the FCA (Financial Conduct Authority) has authorised OnBike to continue offering 0% finance over 12, 18 & 24 months, completely INTEREST FREE!
What were the changes in legislation?
On the 18th March 2015 the FCA (the new regulatory body for all businesses in the UK offering finance options), stated that retailers offering retail finance options IN EXCESS OF 12 MONTHS were required to be authorised by the FCA. Failure to do so would result in the Financial Conduct Authority taking action and possibly withdrawing the retailer's ability to offer credit.
OnBike has always endeavoured to offer its customers as many flexible payment options as possible, so we didn't hesitate in applying for full authorisation from the FCA. From day one, we've offered a range of payment options, all at 0% Interest Free, including 12, 18 & 24 months. We didn't feel it right to continue offering credit facilities without any form of regulation. So as you can imagine…we're thrilled to be fully authorised!
This provides the industry AND its customers with peace of mind as well as a much needed professional affiliation.
Check the Finacial Conduct Authority Register
The good news is that the FCA provides an online register and offers complete transparency. The process in achieving full authorisation (as OnBike has done), is extremely rigorous. Many definitive criteria have to be met, and the process is very demanding and extremely thorough. Not all applications are accepted, and the process is by no means a formality.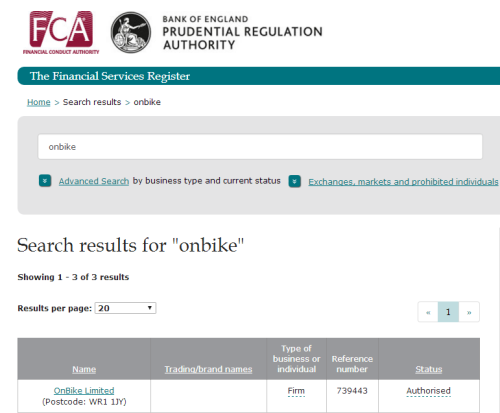 OnBike was awarded full authorisation this year, and is extremely proud to be both backed and supported by the FCA.
If you'd like to check OnBike's status in the FCA Register, then please use the link below to search for 'OnBike':
Find out more about OnBike's Finance Options over terms of 12, 18 & 24 months all of which are INTEREST FREE!