We're always delighted when a customer takes the time and trouble to provide feedback on a purchase, and to tell us how good (or bad!) their experience has been. Luckily, to date, we've never had a bad customer review. We strive to continually provide the very best in customer service, and to support our valued customers in every way we can.
Recently, a customer very kindly emailed in some details and photos of their new purchase….a Riese & Muller Bluelabel Cruiser. These beautifully built electric bikes from Germany, ooze quality and class as well as being reliable workhorses packed full of features. In addition the customer adorned their ebike with leather panniers and Riese & Muller frame bag. The result, an absolutely exquisite example of a Riese & Muller Bluelabel Cruiser.
Customer review of the Riese & Muller Bluelabel Cruiser
Here's what the customer had to say…..
"Hello OnBike
I thought you may want to know how I am getting on with my BlueLabel Cruiser that I picked up last month…
I have been really pleased with it right from the start. I am loving the bike, I use it every day and have clocked up 400miles in the first month. You will see that I also found some great leather panniers online from Italy that finish the look and the bike attracts a lot of comment.
The best way to show how much I have enjoyed riding the bike is in the photos attached"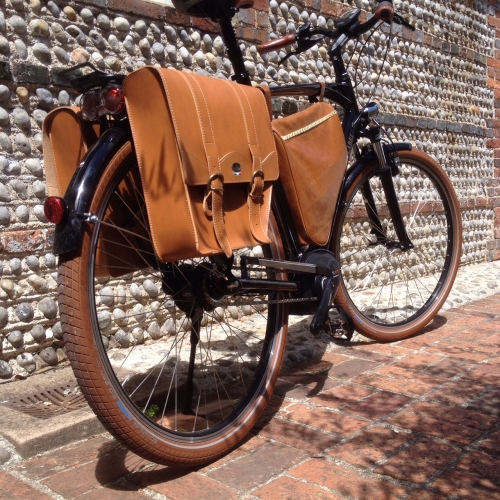 In addition, the customer highlighted a very good point that's worth sharing regarding the adjustment of hub gears and the infamous 'yellow line and window' to ensure smooth gear operation. Having exactly lined up the two yellow lines within the window on the hub of the ebike, he noticed that the gearing was not changing quite as smoothly as expected. This is what he had to say:
"I adjusted the cable so that the yellow lines lined up perfectly but the problem of non-smooth gear changing still persisted – however, I got some very useful advise .The advice was to not totally trust the yellow line positions but to use them as a starting point to adjust the cable a ¼ of a turn at a time to find the optimum adjustment whilst riding and changing gear. It worked and the gears now work perfectly so I thought I would pass the advice on as others may have the same problem."
Wise words indeed Sir!
Click on this link for more details on the Riese & Muller Bluelabel Cruiser.