The Riese and Muller Tinker is a very popular 20″ wheel, small size ebike and rightfully so.
It's the choice of many that seek a compact solution as well as flexibility. It's powerful CX motor from Bosch ensures even the most demanding hills are no match. Couple that with a 500Wh battery and the Tinker provides extensive range too!
Unique Handlebar Folding Mechanism from Riese and Muller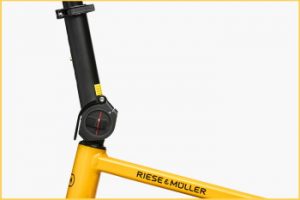 Perfect for the motorhome owner, the folding nature of the Riese and Muller Tinker's handlebar stem is unique.
Not only does the handlebar stem fold down, it also twists. As a result, the bars lie flat against the frame producing a slimmer bike. This allows easy stowing in the garage of a motorhome without any further fuss.
How exciting being able to park up the motorhome and leave it there for the duration of the trip! The Riese and Muller Tinker is an ideal means of exploring the surrounding area! As we all know, we still have to put in effort when cycling our ebikes, but it's not as tough! That means more time exploring and having fun!
However…there's a few more tricks up the Tinker's sleeve!
75Nm Bosch motor
Carbon belt drive
Hydraulic brakes
Suspension fork
Suspension seatpost
Enviolo gearing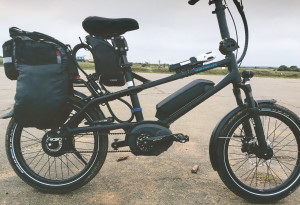 Enviolo Gearing
The Tinker Vario boasts the wonderful N380 seamless Enviolo (formerly known as NuVinci) hub. The gearing provides easy, simple and endless gear options. Furthermore, fitted as standard is the silent and bomb-proof Gates carbon drive belt for even greater luxury and zero maintenance!
With so many features, the Riese and Muller Tinker sets itself apart from many other folding ebikes. Yes, it is a partial folder, but that's the benefit – it rides like a fully sized ebike!
Take a test ride here at OnBike Electric Bikes and experience the joy of the Tinker!
See our full range of Riese and Muller ebikes HERE.