ORTLIEB Panniers and Bike Accessories Now Available from OnBike
ORTLIEB panniers, bike bags, and a huge range of accessories are now available from OnBike. We've recently become an approved retailer of the fabulous ORTLIEB range!
Waterproof Bags from The World's Market Leader
Famous for being WATERPROOF, guaranteed. It's as simple as that!
ORTLIEB have been the market leader in this area for many years. They are renowned not just for waterproofed cycle bags, but also quality, ease of use and flexibility of their products. Thanks to a high-frequency welding method, ORTLIEB panniers as well as their huge range of cycle bags, are totally waterproof. There's no glued or sewed seams to be found for water to ingress. Because of this level of quality, ORTLIEB offer an unconditional 5-year guarantee on their products! Furthermore, they have 'proven closures'. Regardless of which type of closure is used, ORTLIEB have created a solution to prevent any form of water ingress.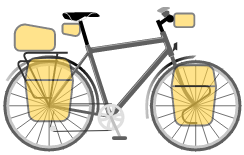 If touring's your thing, there's a HUGE range to choose from including rear panniers, front panniers, and bags for handlebar, saddle, trunk and recumbents. In addition, ORTLIEB manufacture bags for city life including office bags, shopping bags, as well as shoulder and messenger items.
There's now an enormous range of styles, sizes and finishes to choose from.
Easy Mounting System
One of ORTLIEB's many superior features is they way in which the bags attach to the carrier. There are a number of mounting systems within the range, but ORTLIEB's QL2.1 is very popular. Features include:
Automatic closing and opening of attachment hooks by lifting the pannier handle
Fully adjustable, lateral attachment points to suit any carrier
Anti-Scratch materials
Optional anti-theft device locks the bag to the upper rail of the carrier
Lower rail hook, fully adjustable, anti-scratch
We're amazed by the quality of ORTLIEB panniers, and proud to be an official supplier!
Visit the ORTLIEB website for more detailed information.