Kalkhoff Electric Bikes are now available with Bosch motors in 2017!
The forthcoming 2017 season sees Kalkhoff electric bikes diversifying, and adding to their already extensive range.
Building on the huge success of their innovative Impulse motors, the Kalkhoff brand now includes a portfolio of ebikes driven by Bosch. Impulse continues to be exceptionally strong in the marketplace, with Dutch giant Gazelle continuing, as they always have done, to produce a wide range of electric bikes also utilising the very same motor. Bosch continue to prove being very popular and is one of the top drives out there. It's relatively noise free, reliable and more than up to the job in hand.
Bosch motors can be found on a number of Kalkhoff electric bikes. Their two most popular ranges, the Agattu and Pro Connect both offer a Bosch option as well as the traditional Impulse units.
Agattu with Bosch
Noticeably within the Agattu range is the B8. A nicely crafted touring ebike with Nexus 8 hub gearing. Simple. No hassle. No Fuss. Yet, at the same time a great performer with huge range. The Agattu B8 is driven by Bosch's Active motor and powered by a huge 500Wh battery. This combination of drive and battery provides a huge range, and guarantees exceptional staying power above and beyond. Available in both crossbar and wave options, it's a very striking look in airframe silver finish.
Pro Connect with Bosch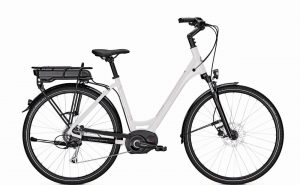 Kalkhoff Pro Connect B9
There are two Bosch options within the Pro Connect range of Kalkhoff electric bikes. Firstly, the Pro Connect B10 and secondly the Pro Connect B9. Both are wonderfully appointed, and represent great value for money, as does the Agattu. Strong and resilient, the Pro Connect ebikes are on the whole derailleur geared. They both utilise the Bosch Performance motor.
There are differences in spec between the two ebikes, the B9 also having a slightly lesser capacity battery at 400Wh. Both of these stunning electric bikes are built to Kalkhoff's very high standards. Frame styles are threefold: Diamond, Trapezium and Wave. Colour options vary between frame type. The Barelo Red is gorgeous!
Kalkhoff electric bikes have come a long way…..the addition of Bosch complements the range beautifully and adds even further options to this already strong German brand.