OnBike Electric Bikes want to wish all of its customers, both past and present a very Happy New Year!
In addition, we hope that 2020 is filled with prosperity, health and happiness!
Supporting your local dealer, OnBike Electric Bikes
The team here would like to express its sincere thanks for all the ongoing support of its customers and for their purchases over the last twelve months.
THANK YOU!!
We very much appreciate ALL the custom that we receive. OnBike always takes pride in its customer service and wide range of quality, European brands of ebikes.
It's sensible in our view to deal with a specialist electric bike retailer like ourselves rather than risking an internet purchase and all the hassles that go with that.
So, once again, thank you to everyone who recommends us, purchases from us and are advocates of electric bikes to everyone they meet!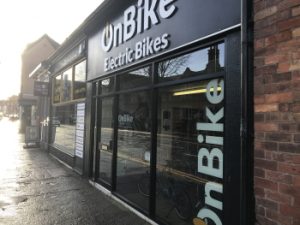 First week back and lots to do and tell everyone!
Last week was our first week back having been closed over Christmas and New Year for just over two weeks.
The first week back was busy, getting up to speed with emails, taking delivery of orders and preparing for the season ahead.
Oh yes….and we've had a bit of a makeover both inside and outside with additional graphics and branding!
2020 Stock
We're already receiving 2020 stock and even at this early stage in the year can offer a huge selection of the new season's models. There's some fabulous ebikes with us at the moment.
Here's an example of a few real stars of the show:
2019 Ex-demo Stock
For those looking for a bargain and working to a more modest budget, then we have some great ebikes at heavily discounted prices!
Some have just a couple of miles on the clock, and others not even that!
They're ALL in pristine condition and come with a FULL 2-year warranty. Below is a link to a dedicated page on our website that provides more detail:
Have a great 2020….!!