Focus Jam2 & Sam2….breaking news….!!
Those lovely people at Focus Bikes in Germany have now included their 378Wh T.E.C. Pack as standard on every bike in their Jam2 and Sam2 range of eMTBs….!
Focus Jam2 and Sam2 go long!
This now means that every bike has a whopping capacity of 756Wh!
Previously sold as an additional option at £459.00, the second battery known as a T.E.C. (Tailored Energy Concept) Pack enables HUGE range as standard.

756Wh in Seconds!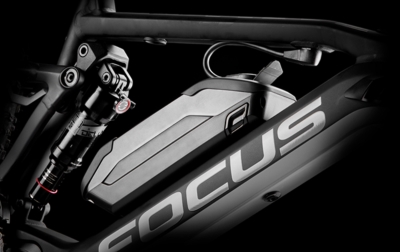 The additional 378Wh battery pack takes no effort to attach and remove.
It clicks into place on the bike via a dedicated rail. A cable then hooks up from the top of the battery to the underside of the frame. Easy.
The bike is then powered firstly from the external battery. Once this is exhausted, it can be removed and the internal battery then takes over.
If the additional external battery is not in use, the rail on the down-tube serves as the ideal mount for either a water bottle or tool kit.
Check out our great and unique range of Focus eMTBs HERE.