Design & Innovation Award 2018 Winner: Focus Sam2 eMTB
The Design & Innovation Award 2018 has a winner. The Sam2 eMTB from Focus!
Available now at OnBike, the Sam2 has pride of place in our showroom, and for good reason. It's one of the finest eMTB's available.
Here's a few words from the nice people at E-MOUNTAINBIKE who reviewed the bike recently:
"The development team at FOCUS has done a great job with the SAM². It's an all-round E-MTB that lets you ride and have fun on any surface with confidence. Despite so much travel, the bike climbs very efficiently, making it a great all-rounder. We're sure Marty McFly would enjoy the SAM², because it glides over the ground as smoothly as a hoverboard."
The Focus Sam2 Building on the Success of the Jam2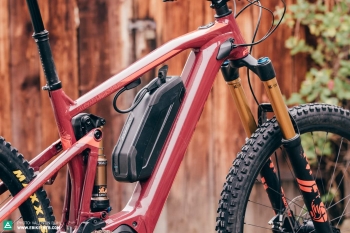 In 2017, the Focus Jam² was met with huge acclaim for its ride capabilities. In response to market desires, Focus have now launched a longer-travel model called the Sam² with 170mm. It shares many features of the Jam² like the optional T.E.C. extra battery and the F.O.L.D. rear end. However, the Sam² takes it to new and even dizzier heights.
The 170 mm of front and rear suspension simply raises the bar. It's a superb eMTB with such a balanced handling package and already proving to be a huge success with riders of all abilities. Thanks to its modern, aggressive geometry and sublime suspension the Sam² provides great traction and performance on the trails. There's no compromise either. This lightweight ebike handles like a dream thanks to a much lighter battery than the competition. However, don't be put off by the 378Wh battery which still provides more than ample range. When longer rides are on the agenda, it's easy to add the spare battery in seconds.
About the Design & Innovation 2018 Award
The Design & Innovation Award is both a seal of approval and the benchmark achievement for the bike industry's highest-performing products. The Design & Innovation Award is more than just a title-giver or a round of applause for brands. It's the definitive award that decisively tests products in the real world, assessing them in their entirety and reaching considered verdicts. 2018 yet again saw select international journalists, professional test riders, and industry experts invest more than 6,000 hours of their time to partake in the Design & Innovation Awards process.
There's THREE spec options in the range:
(1) Sam2 Ltd
(2) Sam2
(3) Sam2 Pro