We're very excited at OnBike because we're now the new dealership in the Midlands for KOGA electric bikes!
What's different about them I hear you say? Well…quite a lot actually! Within the KOGA range of ebikes is our featured bike, the KOGA E-Xtension that utilises the totally silent ION drive. The ION drive also features on the KOGA E-Tour and KOGA E-Special. Finally, the KOGA E-Lement is a beautiful ebike with a Bosch system. All are available in a crossbar or step-through frame.
HAND BUILT PERFECTION
All Koga bikes are built by hand in Heerenveen, The Netherlands. A single technician is responsible for the full assembly of each bike. The 'handbuilt by Koga' logo on the frame is the guarantee of this unique working practice. By individuals, for individuals. This close relationship to the product is reflected in the results: perfection down to the finest detail.
Koga meticulously checks all ebikes built in Heerenveen. All of them are thoroughly tested one by one, and put through a comprehensive inspection process, to guarantee that they meet the highest standards of quality.
All KOGA ebikes with ION drives are fitted with a high resolution display with bright blue back-lighting, that provides all the necessary riding information. This removable display also functions as an immobiliser, making it an excellent ant-theft feature.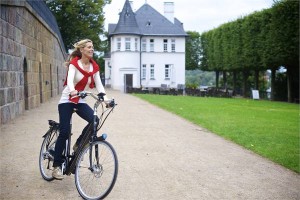 The KOGA E-Xtension features a lightweight smooth welded aluminium frame. It has triple hardened and triple butted tubing for strength. The KOGA patented 'Feathershock' suspension forks take out all those nasty bumps for a really comfortable ride. In addition, the KOGA E-Xtension is bursting with more high quality components: 30-speed Shimano Deore derailleur, Magura HS-11 hydraulic disk brakes, and a programmable software module.
If you want silent, comfortable riding coupled with ultra reliability and quality, the the KOGA E-Xtension from Holland is hard to beat.