Bosch Performance CX Motor
The Bosch Performance CX motor is now available on many of our electric bikes. It can be found primarily on electric mountain bikes, but also features on a number of hybrids too. It delivers significantly more acceleration off road thanks to the optimised Drive Unit and innovative technology.
Enhanced Performance
At its peak, the Bosch Performance CX delivers 75Nm of torque. This compares to 60Nm of the non-CX performance unit. It's fair to say that the Bosch Performance CX features a clearly noticeable increase in performance. The design of the CX has been altered to reflect a more aggressive and rugged look and feel. The housing is smaller, and powder coated. The power is long-lasting, even up to high cadences and in the toughest and most demanding terrain. It feels more sporty, responsive and is ideally suited to the eMTB.
Motor Comparison
| | | | | |
| --- | --- | --- | --- | --- |
| Motor | Eco | Tour | Sport | Turbo |
| Performance (Nm) | 40 | 50 | 55 | 60 |
| Performance CX (Nm) | 40 | 50 | 60 | 75 |
As the table above shows, the Bosch Performance CX really starts to show its strength when the bike is put in either Sport or Turbo mode.
Riding the bikes side by side
So what do the two motors feel like and how do they compare when tested side by side? Given the data on the torque settings at each assistance level, the bikes perform pretty much as expected. Take off is smooth, very much a characteristic of Bosch and identical on both motors.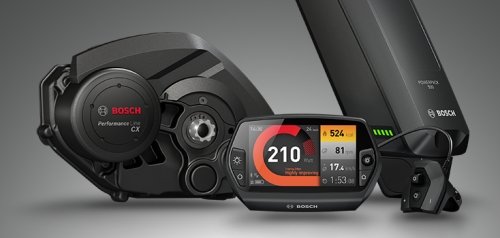 Once under way, the extra power can be felt on the crank, but it's subtle not jerky. When it comes to the really steep climbs, the Bosch Performance CX is comfortably a keener performer without a doubt. That said, this doesn't detract from the superb performance that the non-CX motor delivers. The saying 'horses for courses' comes to mind. For responsive and ultimate power delivery as required in an electric mountain bike, the Bosch Performance CX would be the motor of choice. For all other applications, The Performance motor alone does the job admirably.
Available with Intuvia or Nyon display, depending on model.
Check out our range of electric bikes featuring the Bosch Performance CX Motor HERE.