KTM eStyle P Electric Bike
In October 2013, Europe's leading e-bike magazine "ElektroRad" tested several e-bikes focusing on their climbing qualities. Result: Highest reach and highest efficiency for KTM's e Style P, and the Germans know a thing or two about testing eBikes!
"About 20% on average on the uphill section. All the bikes are given the same route, rider + bike = 100kgs, batteries charged to full. The race continues until the batteries run out.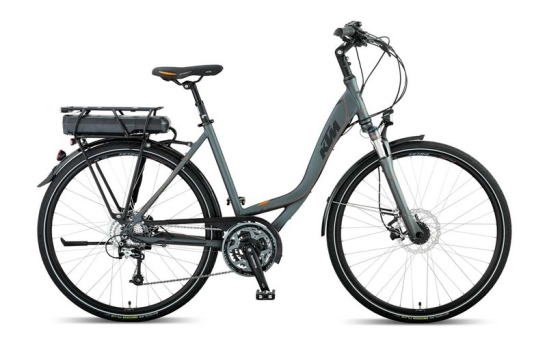 From Regenhuette, they set off for 6.7km on fairly flat ground to the bottom of the mountain (800m altitude) then climb up to Arberseehaus (1000m altitude), the steepest section is 25%. Most of the weak bikes die here. Only the KTM with Panasonic motor carried on to Bretterschachten (1200m altitude), the average gradient is around 22% on this section. The KTM with the Panasonic is the best by far,,,,and described as "very impressive."
The 2014 KTM eStyle P is powered by the reliable Panasonic 2014 Compact Hub Motor System and comes equipped with front and rear mudguards, dynamo lights and pannier rack,offering hours of hassle free riding.
Panasonic Compact Hub Motor System – Compact Power.
The Panasonic Compact Hub Motor System unites sportiness and endurance, and symbolises the KTM eStyle P. The compactly constructed and powerful hub motor ensures a smooth delivery of assistance, capable of seeing off even the most challenging terrain. The torque sensor responds sensitively to the rider's wishes and guarantees that human and electric power – depending on the assistance level – is well proportioned. In addition to the selectable assistance levels there's also an automatic mode. It assures an automatic adaption of the required assistance in every situation. The reliable, intuitive on-board computer keeps you fully informed about all the functions of your ebike.
Click on the image for the full specs of the KTM eStyle P.