Koga ION Drive
ION technology has been utilised in KOGA electric bikes for many years, and has a proven track record in the Netherlands, the home of KOGA ebikes.
Noiseless
The ION drive is as quiet as mouse, but without any squeeking! Smooth and silent, power is delivered seamlessly and efficiently resulting in a unique riding experience. The ION drive is a both a brushless and gearless system.
Torque
Depending on the model, KOGA provide electric bikes equipped with differing torques on its ION drive. They are available in 28Nm or 40Nm values, with the higher torque motors delivering greater levels of assistance. Check the specifications on individual product pages of our ebikes.
Location
The ION drive is located in the rear wheel.
Operation
At the heart of the system is a torque sensor that detects how hard you pedal. The KOGA bikes with ION drive are true pedelecs. The recorded signal is transmitted to the ION computer. This then compares the effort required to deliver the chosen mode of operation (assistance level). Based on these signals, the powerful motor is aligned and controlled to give more or less energy, and is variable depending on your assistance level settings.
Other Benefits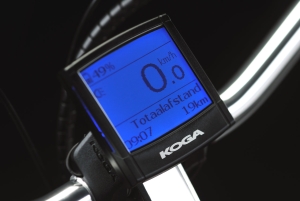 With all KOGA bikes that are equipped with the ION drive, comes a superb cycle computer. Easy to read, the blue backlighting makes this unit unique in the world of electric bikes. It also acts as an immobiliser, so when removed, deactivates the ebike.
KOGA Electric Bikes with ION Drive
These superbly built, quality electric bikes come with the following features:
'Rayo' technology – fully integrated headlamp, mudguard & front fork
35 lux headlamp – more than three times stronger than the German Road Traffic Regulations Directive
smooth welding – beautiful aesthetics
cable integration – shift, brake and lighting cables hidden
Click on this link for more information on our range of KOGA electric bikes with ION drive.