KTM Electric Bikes
KTM is well known for producing some of the best motorcycles in the world. What's not quite so widely understood is that they have been building exceptional quality bicycles since 1964.
Read more >>

Based in Mattighofen, Austria, KTM focus on in-house development and testing of all their electric bikes together with assembly, painting and wheel-lacing, all under one roof.
They offer a huge range of electric bikes in many different frame types and styles. The Austrian manufacturer not only covers the entire range of bicycle types, but also sells bicycle components, accessories and clothing for cyclists.
In addition, KTM produces bicycles for children as well as for all age groups.The product range is vast. It covers classic racing bikes to various mountain bikes to city and trekking bikes, as well as e-bikes of course.
With fatbikes and cyclo-cross wheels, the company also covers small niches. However, the focus of the range is on mountain bikes (hardtail and full suspension), trekking bikes, racing bikes and in today's world, electric bikes too.
They've had a long standing relationship with the Japanese manufacturer Shimano, which enjoys an enviable reputation within the industry. All the bicycles of the company are marked by the distinctive KTM logo which none of us can fail to recognise!
KTM Headquarters is pretty impressive: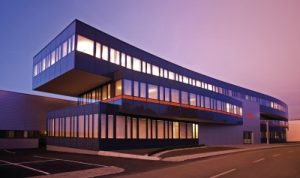 KTM eBikes have a Trustworthy Pedigree
The company was founded in 1951 by Ernst Kronreif and Hans Trunkenpolz in Mattighofen. Prior to this, Trunkenpolz's company  KTM Motor-Fahrzeugbau initially repaired motorcycles before starting production of its own brand in 1954. They produced bicycles for the US market in 1964 under the brand Fleetking.
Following this huge success, KTM invested in building its own bicycle brand; the one we all know and recognise today. In 1989, the millionth bike left the production line! From 1992 onward, they became heavily involved in the booming MTB market and developed a series of bespoke aluminium frames to suit this growing market. By 1999, the company had produced in excess of 2,000,000 bicycles.
In 2011, KTM presented the first mountain bike with electric motor. Today, the company distributes its products in 50 countries worldwide.
Read less >>