OnBike has always advocated that investing in an electric bike is the right thing to do, rather than considering entry level, inferior products that simply won't last the test of time. The saying that 'you get what you pay for' is certainly true in the world of electric bikes, as history has shown us. At the very top of the tree is Riese Muller from Germany, who make some of the very best electric bikes on the market. One of their flagship bikes is the Delite, available with NuVinci gearing and also the hugely impressive Rohloff. One of our customers recently purchased a couple of bikes from us for himself and his wife. The bikes in question are the Delite Rohloff and Homage, from Riese Muller.
OnBike is indebted to Dr T Wain-Hobson for providing such a detailed insight into his experience with OnBike and recent purchase of the Riese Muller Delite and Homage electric bikes.
Dr Wain-Hobson writes…..
Riese & Muller – Delite & Homage – Our search for the best e-touring bikes in the world
My wife and I have been cycling for over 40 years and we purchased our first electric bikes following an accident touring the Outer Hebrides. My wife was knocked off her bike by a passing car in high winds and the resulting knee injury and subsequent operation meant that cycling up steep hills in North Wales where we live presented additional challenges.
We were cycling on a Koga World Traveller and Koga Randonneur at the time, so it was a logical step to investigate the Koga range of e-bikes. We purchased a new, but old stock Koga Tesla and a new e-Special from Cyclesense in Tadcaster from where my wife had purchased her Koga Randonneur a few years previously. The Koga e-bikes were excellent in many respects but the Koga Tesla was restricted in power. Pushing a heavy e-bike with panniers up the occasional very steep hill somehow defeats the object of an e-bike! Both cycles had built in batteries and a rear silent ion hub motor. We found the latter to be the greatest problem as the rear motor is attached to the bike via a cable so the rear wheel cannot easily be detached from the bike. I suffered two punctures in very difficult locations, the first high on the Denbigh Moors and the other in a remote Scottish glen. You must carry a large spanner to release the rear wheel if you need to change the inner tube and the whole process is frustrating, especially in the wet and midge invested countryside of the Northern Highlands. My Koga e-Special suffered from little suspension for the remote tarmac roads that we frequent. Both Koga's had built in batteries which made them very heavy on a rear cycle rack and more difficult to charge in B&Bs.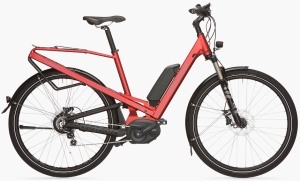 On a walking holiday in the Austrian Alps last year we noticed a number of younger cyclists moving fast on steep roads riding electric mountain bikes. We hired KTM bikes with the Bosch motor from our hotel and found they were powerful on hills. We started our search by reading reviews online and then road tested some ebikes which were more orientated to mountain biking and not for us. E-bikes tend to fall into the urban commuter and more recently the mountain bike camp. We wanted something in the middle for cycle touring and were attracted to the Riese & Muller Delite & Homage range as they had full suspension. Through the R & M website we found their nearest dealer OnBike in Worcester, some 160 miles away. Martin and Mike from OnBike were extremely helpful, as were the importers, Amps. They arranged for a demo Delite to shipped over from Germany to OnBike so we could have a test ride. The bike came with Nuvinci gears which we did not like as we could never decide which gear we were in. We also went to the Cycle Show at the NEC in September where Amps displayed Riese & Muller bikes on their stand and we were able to test ride both bikes. Amps were supported by Eric from Riese & Muller who had come over from Germany for the show, so he was on hand to answer all our questions. His most useful comment was that "tyre pressure is everything" with an e-bike.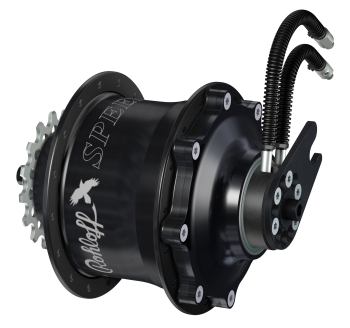 As a result of going to the Cycle Show, we decided to upgrade to the Rholoff hub gear and the Fox suspension option with variable control on the handlebars. We did not feel that the upgrade to the Bosh Nyon display was cost effective. I had read all the reviews about the Rholoff hub providing the ultimate gearing for cycle touring but had never owned a Rholoff bike. The reviews are absolutely correct, it is an astonishing piece of German engineering – just like my Audi Allroad with Quattro drive! The ability to change across a wide range of gears is a revelation, especially as we have done many miles on a heavy Thorn tandem where anticipating a gear change coming up to a junction was a constant requirement.
The bikes are built to order and we took delivery at the end of October, earlier than expected. We picked them up from OnBike in Worcester on a wet and windy weekend, a sign of the weather to come. North West Wales has had three times its annual rainfall in November and December and we have struggled to get much biking in as a result. However, our first impressions have been very favourable. There is plenty of power for the narrow steep rural lanes we frequent and the large tyres and full suspension are reassuring on the steep downhill sections especially when littered with potholes. These bikes are exceptionally well made and everything just works so well. Riese & Muller do not make a ladies specific geometry, so we have reduced the handlebar width on the Homage and replaced the rather long saddle with a smaller ladies Terry titanium butterfly. They have quick release skewers, so no need to carry a large spanner and there is no derailleur gear mech to damage.
There are only two modifications I would suggest that Riese & Muller might want to consider.
Put the Supernova E3 rear light on the back instead of the B & M unit. The E3 would complement the front Supernova E3 and aesthetically be so much more in keeping with the design of the bike.
Locate the Abus Bordo lock lower on the frame to allow a saddle bag to be fitted. With no front panniers, every alternative available space is valuable.
Other points that might be of interest are:
We purchased a wide Klickfix front bar bracket designed for e-bikes and not readily available in the UK from Rose in Germany to take our bar bags.
The rear Ortlieb classic panniers fit the integrated 20 mm cycle rack, once you have mastered the knack of removing the 16mm reducer clips. A major drawback of the bikes for touring is the inability to put front panniers ranks on the Fox suspension forks, but this requires further research.
The bikes have a very long wheel base, in common with other electric bikes and they may not fit on a standard rear cycle rack. They are too heavy to put on a roof rack so make sure any rear mounted cycle rack is designed for electric bikes and can take the longer wheelbase. We have an Atera cycle rack from the Roof Box Company which we have found to be very sturdy. We would strongly recommend a cover from TaylorMade to slip over the bikes when leaving them for any length of time on the rear rack.
We bought a complete set of battery and motor covers from Fahrer in Berlin. This included a brilliant bag made in three sections to house the battery, charger and leads when the battery is off the bike.
Make absolutely sure that the battery is properly fixed on the bike before you cycle off.
We were able to insure the bikes using our existing home policy with Hiscox, who could not have been more helpful.
We installed a very sophisticated alarm for cycle shed.
Consider the PROc2w cycle to work scheme that has a higher limit that the standard £1,000 restriction.
OnBike have a wide variety of bikes to test cycle and looking back, the biggest mistake I made was to buy the Koga e-Special without even seeing it. It was described as the ultimate touring bike on the Koga website but in reality it was a posh urban cruiser with large sweep-back Dutch handlebars. These were very different from the butterfly bars on my Koga World Traveller and I did not feel safe on fast downhill stretches. While undoubtedly beautifully made, the whole look and feel of the bike was not that of the ultimate touring machine. So it is essential to go and see the bikes before you order: they are not an off the shelf item that can be returned.
If our Koga e-bikes are the Bentley's of the e-bike world, then our Riese & Muller Delite and Homage are a Range Rover. Like the Range Rover, these bikes are not cheap, but you get what you pay for. Our son, an expedition doctor with a fondness for elderly Landover Discoveries said to a friend that the R&M Delite was "Dad's Harley Davidson". We are hoping that these bikes will allow us to cycle along our customary hilly routes well into old age. Look out for a Koga e-Special, Koga World Traveller and Thorn Tandem on eBay – I can't see myself cycling on anything other than my R&M Delite in future.
Dr T Wain-Hobson