Lapierre Electric Bikes
For more than 60 years, Lapierre has combined technological innovation, aesthetics, attention to detail and its experience in the most important races to offer the most beautiful and efficient bikes to aficionados.
Read more >>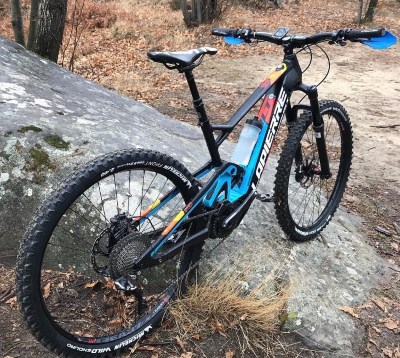 In 1946, Gaston Lapierre started a small bicycle business in Dijon, France, quickly finding success in an industry that was experiencing rapid growth in general. The management was passed on to his son, Jacky in 1960. Today, the HQ remains in Dijon and is the heart of R&D.
In the middle of the 1980's, the company quickly positioned itself as a leading force in the MTB market. From that point forward, they sponsored several competitive MTB teams who have won titles at all levels. It's fair to say they know a thing or two about MTBs!
In 2013, they launched their Overvolt concept with two electric mountain bikes. Since then, they've gone from strength to strength and now produce some of the best and most innovative eMTBs in the market.
The name of Nicolas Vouilloz, former french pro mountain biker is synonymous with Lapierre. Nicolas won ten Downhill Mountain Bike World Championships in his professional career. He is highly knowledgeable with many years experience of MTBs and instrumental in the development of many Lapierre bikes including their eMTB Overvolt range. Quality is assured throughout the range being confirmed on a daily basis by the Team Groupama – FDJ, the Team Lapierre Gravity Republic, or Nicolas Vouilloz himself!
Personalised Assembly
Lapierre pride themselves on quality checks and the involvement of each employee at every stage. All Lapierre bikes are assembled in France by builders, who sign a Bike Pass that is delivered with each bike. It bears their name, and conveys a sense of pride and personalisation not seen with other brands.This allows quality control at every stage of the assembly process. It's a very personal approach to bicycle building and one which has been adopted for many years.
Read less >>
No products were found matching your selection.