KALKHOFF Electric Bikes
Kalkhoff is part of Derby Cycle Holding GmbH and is Germany's highest turnover bicycle manufacturer. In addition, they are the third-largest producer in Europe.
Read more >>


For over 95 years Kalkhoff has been developing impressively designed bikes. They are well known for bringing new innovations to the market every year and quickly became an established, forward-thinking e-bike brand. Manufactured to the highest standards in Cloppenburg, Germany the brand is well known and highly respected throughout Europe and beyond.
In 1919, the 16-year-old rural postman Heinrich Kalkhoff founded the Kalkhoff company in his family home in Cloppenburg. As a postman, he often had to contend with a flat tyre on his bike, so he began to deal in bike tyres and other bike parts. From 1920 onwards he also bought and sold used men's and women's bikes, as well as spare parts. In 1923 he began producing his own bicycle frames together with two employees. By then he had built offices and a production facility on the grounds of his family home. Quality German engineering coupled with innovative technology and design, or "Made in Germany", is a conviction by which Kalkhoff lives.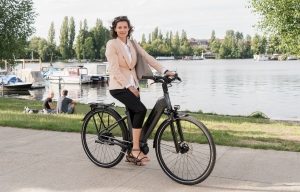 Today, Kalkhoff has one of the most advanced and largest test centres in Europe. They test frames as well as a plethora of components: forks, seat-posts, handlebars, stems, pannier racks, wheels, brakes, tyre-rim combinations, pedals, pedal cranks, grips and more! This amounts to more than 1,000 parts per year. Each bike is individually assembled. Individual departments conduct quality controls throughout the entire production process. At the end of assembly, each e-bike undergoes a 100% performance check in the test centre to ensure every standard has been met.
There's a Kalkhoff for Everyone
As you'd expect from such a huge player, Kalkhoff have an enormous range of e-bikes that utilises the most advanced technology.
They are known for their innovative Impulse drive sytems with huge batteries in excess of 600Wh. In addition, a wide range of Bosch powered e-bikes are also available. Models include those with fully integrated Bosch PowerTubes for super-sleek lines and envious looks. Within such a huge range are e-bikes for leisure, sport, and motorhome use.
Read less >>