Yamaha Electric Bike Technology
The all new electric bike drive system from Yamaha, Japan is based on simple concepts: smooth and powerful. As a direct competitor to Bosch, Yamaha have created one of the best ebike drive systems in the market. Utilising a "triple sensor system" is what enables the drive to have an "organic assist feel" that's been part of Yamaha's development philosophy from the start.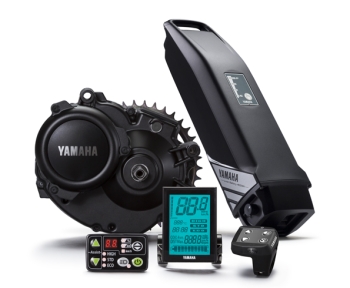 The three sensors are (1) a torque sensor that detects pedalling power, (2) a speed sensor that detects the bike's speed, and (3) a crank sensor that detects the number of rotations through pedalling. The end result is that the sensors detect instantly the running conditions and the movement of the rider with precision. This facilitates a smooth and powerful level of assist.
Yamaha Technology and Outstanding Performance
Being a crank drive, most of the weight is central to the bike at the bottom of the bicycle, allowing for better handling and overall balance.
Motor
The high power motor has ample amounts of low-down torque, making electrical assist on hills and gravel roads easy to achieve, under the hardest of conditions, and is extremely powerful. It delivers 70 Nm of torque.
Handlebar Controller
The innovative vertical display makes information delivery from the Yamaha system easy to read. The display can be controlled without taking your hands off the bars. In addition to all the desired ebike info is a 'walk assist' button for times when we need to walk alongside the bike.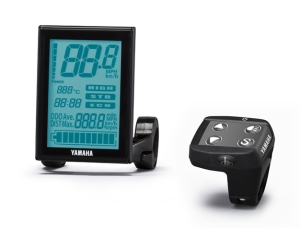 The display also acts as an anti-theft device, being removable – the bike will not deliver any power to the bike without it.
Power Assist Modes
The Yamaha ebike drive system provides THREE levels of assist, with a fourth setting providing zero assistance yet full functionality of the cycle computer:
High Provides a constant and powerful assistance. Perfect for riding uphill.
STD Satisfies both power and cruising range. Recommended for daily use.
ECO Saves energy for an extended cruising range. Best used when cruising on a flat road.
OFF Allows you to ride without power assist while switch functions remain enabled.
Battery
The battery pack employs a large capacity lithium-ion cell delivering 400Wh and weighs in at only 2.9 kg. Total charge time is about 3.5 hours. It lasts long, and over-charging does not detract from the battery's recharging functions. In addition, the battery pack can be recharged without being removed from the ebike.