TAILORED ENERGY CONCEPT
TAILORED ENERGY CONCEPT (T.E.C.) for Extended Battery Range and Individuality: SHIMANO DRIVE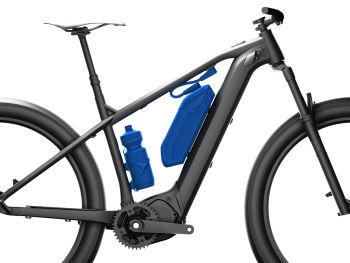 The Tailored Energy Concept (T.E.C.) found on the new Bold
2
and Jam
2
eMTBs from German giant Focus, brings a totally new approach to battery power delivery and aesthetics. Focus refer to this as their 'SQUARED' experience. They went on the hunt for the ultimate eMTB experience, and came up with their new E-Performance bike. Developed to take the trail experience to a whole new level…they found new territory. Not double the exhilaration, nor tripled, but squared! SQUARED EXPERIENCE TRAIL² + MOUNTAIN² = EXPERIENCE².
INDIVIDUALITY²
No matter whether you want to improve your climbing skills on home trails with extra uphill flow, or conquer the mountains, drenched in sweat but with a broad grin on your face – with the TAILORED ENERGY CONCEPT (T.E.C.), you can choose the battery equipment that best suits your needs. The individual energy concept offers you customisable capacity of up to 756 Wh. T.E.C. therefore exceeds any expectations made of power or range.
Tailor-made battery concept
Maximum capacity of 756 Wh
Reliable, protected battery concept
Ideal handling
Light weight
Low centre of gravity
The T.E.C. is available in
three
versions:
Tear up the trails with just one elegantly integrated battery.
Go one better and install an additional battery. The additional battery (T.E.C. pack) can be mounted easily and quickly, allowing the rider to shoot up and down the trails for even longer.
Beyond that, for JAM2 eMTBs leave the T.E.C. pack off altogether and attach a bottle cage with a simple click system (Smart Rack). Tubes, CO2 cartridges and other equipment can be stowed away easily. On the BOLD2 bikes both the T.E.C. pack AND bottle cage can be utilised.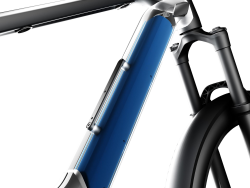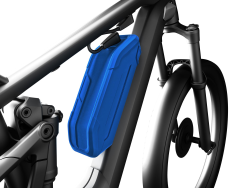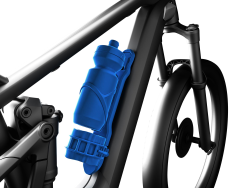 All models within the BOLD
2
and JAM
2
range of eMTBs come T.E.C ready, and with the following additional features:
INTERNAL CABLE ROUTING
The cables and hydraulic lines are routed inside the frame for protection, creating a neat look and extending the service life of the lines for perfect gear shifting and braking at all times.
TAPERED HEADTUBE
The tapered head tube increases the headset stiffness while also reducing the steering weight.
TRIPLE BUTTED DESIGN
Butted aluminium tubes are designed so that the walls are thicker at areas under more stress, with a constant external diameter. FOCUS aluminium tubes are triple-butted. This reduces the weight without impacting on the stability.
AIR FLOW SYSTEM
The Air Flow system provides optimal ventilation for the integrated battery, and fresh, cool air flows through the Airflow Intakes into the down tube where the battery is installed. Heat produced is removed through this air flow via the down tube.