Shimano STEPS Electric Bike Technology
In the spring of 2014, Shimano released a new version of its acclaimed electric bike drive called Shimano STEPS (Shimano Total Electric Power System).The Shimano Steps mid-engine is characterised by low weight, long range, high power and harmonious driving characteristics.
The launch of Shimano STEPS brings a new level of integrated design, seamless operation and effortless performance to electric bikes. Shimano has specialised in cycle components since it was founded almost 100 years ago – the company's very first product was a bicycle freewheel, in 1921. There's no doubt that Shimano knows bikes. Who better to power an electric bike some would say?
Shimano now offer TWO versions of their STEPS technology. One of which is designed for city and touring use and is known as the classic 'Shimano STEPS' system. The second focuses on eMTBs, and is referred to as the E8000 drive unit, and is new for 2017. This has a higher torque and is a much more responsive motor, ideal for use on trails, down hills and the like.
(1) Shimano STEPS E8000 eMTB
The Shimano STEPS E8000 motor provides 70Nm of torque via a very light motor. It's design is wholly around MTB use and brings a new approach to electrically assisted mountain bike riding. Delivery is powerful and couples with seamless shifting. Designed for the steepest hills and the tightest bends, the E8000 truly provides an electrifying experience.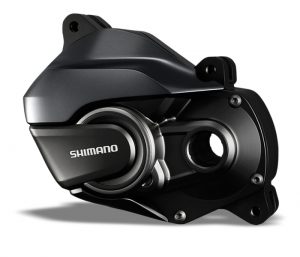 Drive Unit
The greatest difference with the E8000 over several other drives is the Q Factor. It simply rides more like a conventional MTB thanks to the narrow Q Factor (width between opposing crank arms) of 177mm. This important measurement is what ultimately provides pedal stroke efficiency.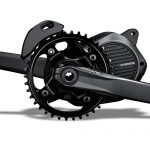 Furthermore, the design of the E8000 means it is able to facilitate the use of shorter chainstays for more typical MTB handling and manoeuvrability. The motor unit comes with chainring in options of 34T or 38T, depending on manufacturer. There are THREE power levels: ECO, TRAIL & BOOST together with a Walk Assist mode too.
Display & Switch Unit
The E8000 has an independent Firebolt switching mechanism to change power levels.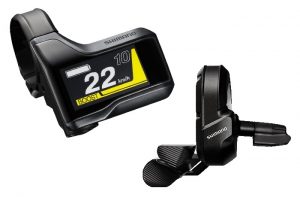 Situated normally on the left side of the handlebar, the trigger changes power assist levels effortlessly and decisively. The cycle computer is ideally mounted on the bars, adjacent to the stem. It's position greatly reduces the chance of impact damage in the event of a tumble.
(2) Classic Shimano STEPS
Designed for city, touring and trekking use. This reliable and lightweight drive system has proved itself as a real winner.
Shimano STEPS system: affordable, Lightweight & compact
Shimano STEPS is a system built around a frame-mounted drive unit. By integrating the drive unit around the bottom bracket area, the weight is positioned low in the frame for easier handling.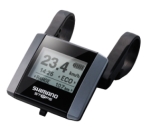 The essential electronics are incorporated in the drive unit, making for a reliable and weatherproof system. It is light weight, has a large capacity lithium-ion battery pack and an intelligent power management system.
Battery
Available for either rear carrier (2.550g) or down tube mounting (2.660g) depending on style, the Shimano STEPS battery comes in at a high capacity of 418Wh (36v at 11.6Ah). It will rake 1,000 charges without a significant loss in power and charges in 4 hours.
Lightweight, compact, smooth and silent drive unit
Weighing in at just 3.2kg, the Shimano STEPS drive is one of the lightest units on the market. Intelligent power assistance provides an easy and natural feel to cycling.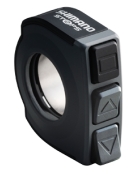 The walk-assist mode is a ral comfort when walking next to the bike.
Simple controls thanks to ergonomic design and intuitive layout
Power delivery is controlled simply and easily via three easy to click buttons on the handlebars.
Compact designed cycle computer
The easy read and ultra clear cycle computer is mounted centrally on the handlebars and can be adjusted. It features all standard bike computer functions including gear indication, range, and battery level.