Bosch Electric Bike Technology
Bosch are one of the European market leaders for electric bike systems. Their range of ebike systems can be found on over 50 leading European bike manufacturers. They are by far, one of the most popular drive systems on the market today. Compact, powerful and aesthetically pleasing the Bosch
Currently, there are THREE Bosch motor systems in production:
Active Line
With the Active Line, Bosch provides a versatile, custom-made product for modern eBikers. It enables cyclists to travel longer distance and have more mobility in everyday life with a tailwind on demand. The Active Line is ideal for recreational eBikers and shopping trips or the Sunday bike ride with a city or touring ebike.

All components come in a discreet platinum and black and are designed ergonomically. Bosch won this year's Red Dot award for the product design.
With utmost precision, the new drive concept combines the performance of the Drive Unit with that of the eBiker, generating perfectly metered assistance, with the energy required travelling along in the form of the lightweight, varied PowerPacks. Optionally equipped with a backpedal function, the Active Line guarantees new, unparalleled riding comfort. Intuvia Active is the clever eBike control centre.
Performance Line
The Performance Line truly lives up to its name. It is designed for sportive, powerful cycling both when accelerating in hilly terrain and when cycling in lowland country. With the highest precision, its performance is combined with that of the eBiker, generating sportive support that dominates every terrain and every gear. From flat to steep. From moderate to full power. The inner values are complemented by an equally impressive exterior. Design and ergonomics combine a high level of aesthetics and usability.
The Performance Line brings a mass of energy and momentum to the street, to the dirt road, to the pass, to the single trail. The powerful drive system consists of the Drive Unit Crusie (25 km/h) or Speed (45 km/h), PowerPack 300 or PowerPack 400 and the compact Charger. Intuva Active is the clever eBike control centre.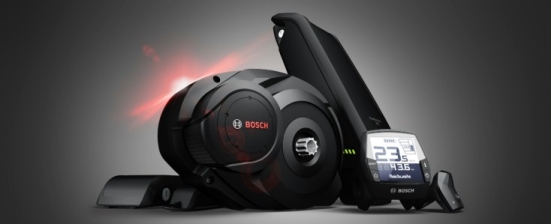 The strong energy is reflected with the young and sportive design of the anthracite-coloured components – a design awarded with the Red Dot Award for product design. In keeping with its design and performance, a wide range of sports models such as mountain or trekking eBikes can make optimal use of the Performance Line.

Performance Line CX
The new Performance Line CX not only ensures significantly more powerful acceleration off road; it is all the more convincing on alpine trails, thanks to the optimised Drive Unit and innovative technology. Delivering 75Nm at its peak, the CX motor is the perfect choice for electric mountain bikes, and features a high quality ISIS interface and minimum Q factor; trail control and gear change control are gentle on the chain and cassette.
It has a smaller housing and rugged powder coating. Battery options are 400Wh and 500Wh.
The CX motor can be found on many of our eMTBs including ebikes within the KTM, Moustache and Lapierre range.
Take a test ride with us and feel the difference!