Tern GSD Cargo
The GSD from Tern is probably the most versatile cargo ebike on the market!
A cargo ebike with a difference, this unique gem has a plethora of tricks up its sleeve. Hugely flexible, the GSD is capable of carrying 400lbs of cargo, two kids or a huge shopping order! Surprisingly, Tern's cargo electric bike is the same length as a standard ebike and is only 6″ long. What's more, the handlebars fold just like it's close relative, the fully folding Vektron S10.
The GSD is capable of carrying the family
With room for up to two Thule Yepp Maxi child seats, the GSD provides the ultimate child transport solution. Thanks to a low step frame, the bike is highly stable with a low centre of gravity. It makes getting on and off much easier and safer.
Designed for the whole family, the GSD's frame is easily adjusted in seconds and is suitable for riders between 4′ 8″ and 6′ 4″.
Large Carrying Capacilty
Equipping the GSD with Cargo Hold Panniers as well as front and rear carriers creates phenomenal transport opportunities. Alternatively, a 'six pack' of Ortlieb panniers tastefully does the job too!
GSD Equipment
The Tern GSD is a 20″ wheel cargo ebike with lots to shout about. Powered by Bosch, this gutsy cargo bike is designed for a multitude of uses.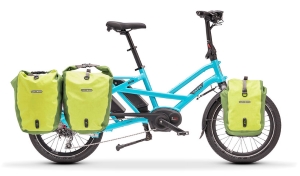 Bosch's super strong Performance crank drive motor is at the heart of the GSD. Pulling at 60Nm+ the GSD delivers a smooth yet strong pull even when fully laden. The 400Wh battery as standard ensures ample range for most journeys.
The handlebar stem is fully adjustable and simple to fold. Tern call it the 'Andros™ Stem'. This is Tern's patented adjustable stem that allows the rider to rotate and set the handlebars as required without the need for tools. It takes seconds to adjust, and means the bike's geometry is a perfect fit for all. A telescopic seat-post ensures further flexibility. There's a fit for practically everyone!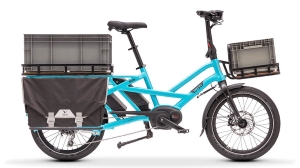 Gearing is delivered smoothly and accurately via a nice Shimano Deore Shadow Plus 10-speed derailleur. ensuring excellent hill-climbing. Braking needs to be highly effective on a cargo bike. The GSD doesn't disappoint. Thanks to a great set of Magura MT5 4-piston hydraulics, the GSD is brought to an effective halt even when fully laden.
Keeping the rider fully comforted are the highly absorbing and puncture proof Schwalbe Super Moto-X. No need for suspension forks on this little gem! These rugged and resilient tyres ensure every bump and hollow are eaten up effortlessly. Ergon GP10 grips enhance rider comfort and support the hands precisely.
Front lighting is provided via a powerful 41 lux, 150 lumen Valo Direct lamp sited inside the handlebar stem. This ensures it's safe from knocks, bumps, and theft as well as being protected while folding. On the rear is an ultra bright Herrmans H-Trace, specifically designed for eBikes. The Bosch Purion LCD with walk-assist is mounted to the left of the bars providing clear and succinct rider information. Bosch drives have five levels of power assistance (one being off) that are easily changed.
With numerous options for carrying both children and cargo, the GSD from Tern is a triumph of design.
Battery options:
400Wh, 500Wh or 900Wh
Panniers:
Tern Cargo Hold Panniers +£149.95
Front Carrier
£99.95
Foot Plate
£49.95
Rear Carrier
£99.95
Cushioned Seat Pad
£49.95