Focus Jam2 6.9 Drifter
The Jam2 6.9 Drifter from Focus uniquely combines a front 2.6″ 29er wheel with a rear 27.5″ Plus.
It's one of two Drifter eMTBs in the range. It's brother is the 9.8 Drifter and features a luxurious Carbon frame. The combination of 29er/27.5 provides the best of both worlds for many riders. It captures the forward momentum and driving force of a 29er, yet retains the agility of a 27.5″ on the rear. The Drifter is a 'no holds barred' eMTB designed to forge through even the toughest trails.
It maintains its status as a unique full suspension eMTB powered by the new, powerful Shimano E8000 drive.
A few years ago, innovative German bike brand Focus introduced a new style and range of eMTBs sporting a number of very special features. The Jam2 6.9 Drifter, new for 2019 is one of their full suspension versions featuring a complementary wheelset. Dynamic on trails, the Jam2 copes easily with every manner of rough terrain. This gutsy performer guarantees to please as it marches on relentlessly, carving up the trails.
Lighter Motor, Shorter Chainstay, Increased Agility = More Fun!
Shimano's eMTB motor, the E8000 delivering around 70Nm+ of torque is the driving force behind the Jam2 6.9 Drifter. It's light at 2.8Kg, compact and slim. It's Q Factor is identical to conventional cycles, and consequently, the bike feels very natural to ride. Furthermore, the motor design facilitates a shorter chainstay length, comparable to a conventional bike. The E8000 integrates perfectly into the frame, providing a sleek and compact solution. In addition, three power settings feature on the E8000 with a walk assist function too. Assistance levels on the Jam2 6.9 Drifter are operated via a Firebolt switch on the left-hand side of the bars. A compact yet clear LCD offers all the necessary information, sitting out of harms way adjacent to the handlebar stem.
Dual Battery to 756Wh
Totally unique to the Focus Jam2 and Sam2 range is their own Dual Battery system. Focus call it T.E.C. (Tailored Energy Concept). The addition of a second battery increases capacity to a huge 756Wh for immense range. This is achievable by mounting another battery, which connects very simply, on the downtube. If an additional battery isn't required, there's room for the attachment of a water bottle if desired. This comes with its own compartment on the cage for carrying tubes or tools. Both the battery and bottle cage attach quickly and easily without any fuss.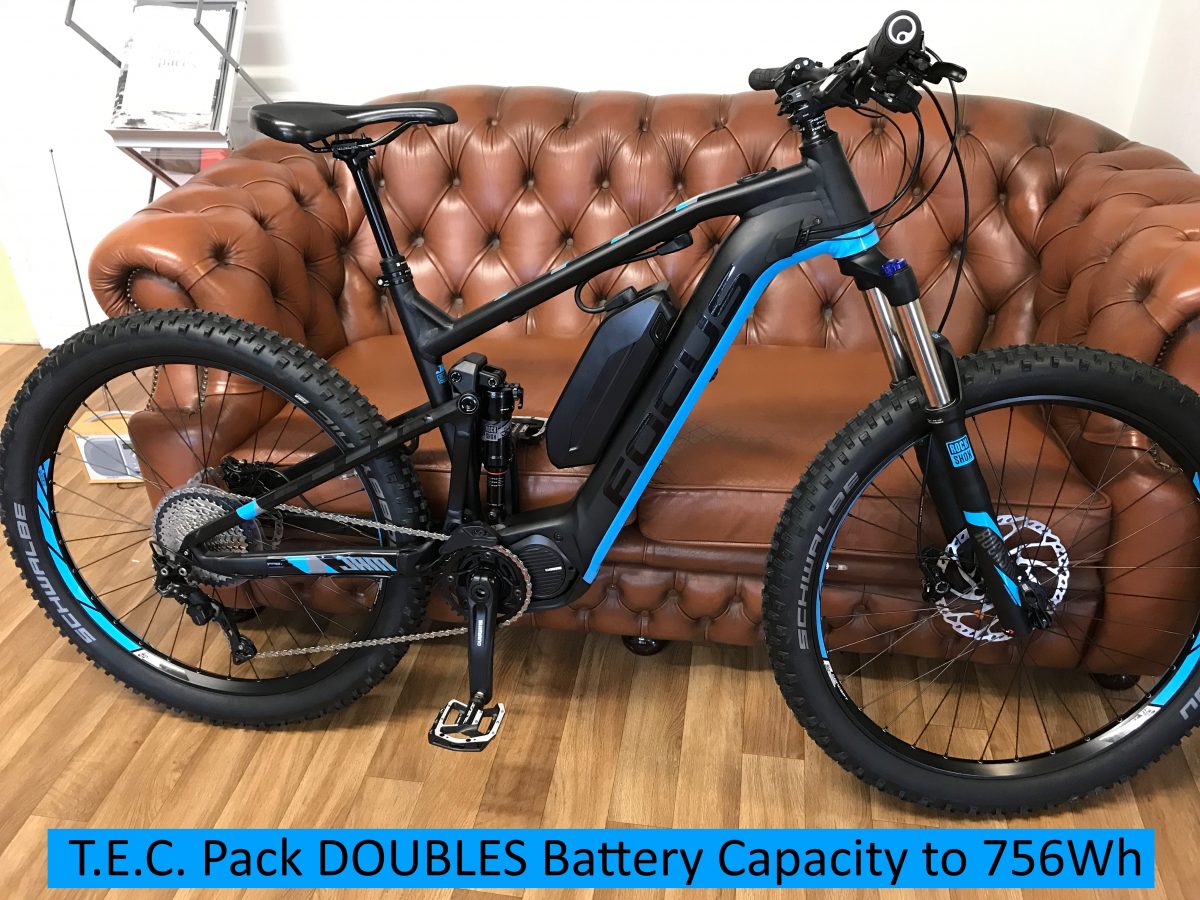 All Jam2 eMTBs utilise the unique F.O.L.D. (FOCUS OPTIMIZED LINKAGE DESIGN) suspension system. It embodies the perfect balance between rigidity and forgiveness. All suspension hardware is located in the frame's centre. The resulting extremely low centre of gravity enables superb handling especially on technical terrain and cornering – perfect for superb bike handling. The core of the design is a one piece rear triangle, which results in massive weight savings.
Quality Components
Front suspension is provided via some very nice FOX 36 Float Performance forks providing 150mm travel. Furthermore, there's a 3-position micro adjust lever for fine tuning of these highly responsive forks. No bump or hollow is too much! Rear suspension is taken care of equally well thanks to a FOX Float DPS Performance shock. Three positions are available once agina, providing the necessary flexibility for all terrain types. The addition of a dropper seatpost ensures total control over riding position on the descents.
29er & 27.5 Plus Tyres Combined
A Plus sized 27.5″ tyre on the rear ensures the Jam2 6.9 Drifter sticks to the ground when called upon. The front 29er provides enhanced momentum for cutting through even the harshest terrain. The new SRAM Eagle 12-speed drivetrain ensures exceptionally smooth and decisive shifting. The Eagle 10-50T cassette has awesome gear ratios and ensures exceptional climbing ability. The front chainring is 38T, facilitating a natural riding experience.
A super light alloy frame ensure reliable and resilient handling together with a high degree of maneuverability. Magura MT Trail Sport hydraulic disc brakes with large 203mm rotors front and rear offer powerful yet controlled braking actions.
The Jam2 6.9 Drifter is a great example of the next generation eMTBs. It's a very well balanced and natural ride thanks to a great overall design and the fact that it weighs less than other eMTBs. The 70Nm high torque Shimano E8000 motor and dual battery option make it a unique experience.
Battery options:
Additional 378Wh battery included, providing a total of 756Wh!