Selecting the right electric bike can be hard enough, but with so many new drive systems now currently available, the process has become even more challenging! One of the most popular questions asked is what the difference is between the Bosch vs Yamaha ebike systems. They are in fact quite similar, both being 250W crank drives but with a number of subtle variations. Bosch is now a hugely popular motor across many brands of ebike. In contrast, the Yamaha is currently only available on the SDURO range of electric bikes from Haibike.
Bosch vs Yamaha: Main Differences
The two drive systems differ in a number of ways, but as mentioned earlier, in relatively minor ways. It's fair to say that Yamaha have introduced their crank drive as a direct competitor to Bosch, so the differences between the two are not huge….but there are some!
Motor
Being crank drive motors, both the Bosch and Yamaha drives are similar in shape and size, and integrated into the bottom bracket area to provide the rider with a natural cycling experience.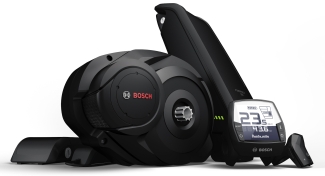 They both utilise a '3 sensor' system that constantly analyses cadence, torque & speed. In fact, these measurements are made 1,000's of times a second to ensure a smooth and responsive delivery of power. The Yamaha motor is roughly 500 grams lighter than the Bosch.
One of the more obvious, visual differences is the size of the drive sprocket.When comparing the Bosch vs Yamaha motor, it's noticeable that the drive sprocket on the Bosch unit is much smaller. This is due to the drive being internally geared, and rotates 2.5 times for each rotation of the crank. In contrast, the Yamaha uses a regular sized sprocket that facilitates the use of a second ring on some models.
| | | |
| --- | --- | --- |
| Feature | Bosch Motor | Yamaha Motor |
| Rating | 250W | 250W |
| Torque | 60Nm | 70Nm |
| Maximum Assistance | 275% | 280% |
| Drive Sprockets | 1 | 1 or 2 |
| Weight | 4 kg | 3.5 kg |
The Yamaha system is slightly more responsive from the off and comes in a touch earlier. Unique to Bosch is the 'gear shift detection' element of the motor that simply backs off the power slightly when gear changing to reduce wear and tear on the drivetrain.
Battery
Both the Bosch and Yamaha batteries are rated 400Wh and run on a 36v system comprised of Lithium ion cells. They each have level indicators and carry handles.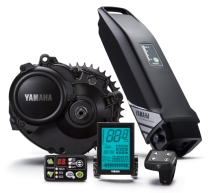 Mounting differs slightly in that the Yamaha batteries are located from a sideways aspect, compared to the Bosch which locate more vertically, in line with the frame. They both use the very latest in technology to ensure a consistent delivery of power and longevity. Each battery carries a warranty of 2 years, although the Yamaha warranty covers 700 full cycles compared with Bosch's 500 full cycles. Chargers a similar in weight and portable.
| | | |
| --- | --- | --- |
| Feature | Bosch | Yamaha |
| Capacity | 400Wh | 400Wh |
| Voltage | 36v | 36v |
| Weight | 2.6 kg | 2.9 kg |
|  Warranty |  2 yrs / 500 full cycles |   2 yrs / 700 full cycles |
|  Average Range |  57 miles | 59 miles |
The main difference when comparing the Bosch vs Yamaha batteries side by side is that he Yamaha is slightly larger in size than the Bosch and approximately 300 grams heavier. This in itself offsets the fact that the Yamaha motor is slightly lighter.
Conclusion
We feel that both systems integrate beautifully into their respective frames. Power levels are easily accessible/switchable, and the on-board LCD read outs are clear and concise. When it comes down to Bosch vs Yamaha, it's a tough call. The truth is…they're both superb performers, at the top of their game and well worth a try. Call us today for a test ride to check out both Bosch and Yamaha drive systems – you won't be disappointed.
Both the Bosch and Yamaha drives can be found within our Haibike range.