SCOTT E-Genius 700 Plus Tuned Electric Bike
The E-Genius 700 Plus Tuned from SCOTT is a very special, extra-ordinary eMTB.
Voted "Best in Test" in November 2016's edition of E-MOUNTAINBIKE MAGAZINE.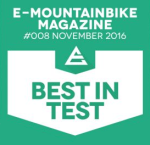 The 700 Plus Tuned is best described as superlative. Put through immense rigours and testing, the Tuned came out an EASY winner. Amongst those bikes considered to be 'less than best' were eMTBs from CUBE, Bulls, Cannondale, Rotwild, Trek and Specialized. Here's what eMTB Magazine concluded after testing:
"Just like last year, this SCOTT rig has waltzed into the group test with the most consistent and versatile frame, build spec, and ride. Whatever sort of rider you are, the E-Genius 700 Plus Tuned will come up trumps, speeding along singletrack and plummeting down hills."
Strengths:
– very balanced handling
– top suspension
– cohesive and well-chosen components
Weaknesses:
– zero!
Make no mistake, the E-Genius range of ebikes are revolutionary in their design. The beautifully appointed 700 Plus Tuned, full suspension eMTB is exceptional, and offers boundless fun and energy. The phrase 'Tuned' simply means very high spec.
Featuring 27.5″ Plus technology (tyre size 2.8″ x 27.5″) this eMTB delivers ground breaking performance. The Maxxis tyres are tubeless ready. The 700 Plus Tuned takes a proven approach of using wider rims and less air pressure that puts more tread on the ground (+21%) resulting in greater traction, and more precise steering. Powered by the Bosch Performance CX motor and huge 500Wh battery, the SCOTT E-Genius 700 Plus Tuned weighs in at a mere 21.8kg. The result is an ebike powerhouse with incredible maneuverability, steering and traction. Sram's Guide-RE hydraulic disc brakes provide ultimate stopping power combined with 200mm rotors to help navigate even the tightest of turns.
The exhilarating ride of the 700 Plus Tuned is a combination of many unique elements inherent to the bike.
It has for example, 140mm front suspension travel and 130mm at the rear provided by FOX. Scott have collaborated with FOX suspension to offer a new lightweight 'custom-tuned' rear shock to work in harmony with the full suspension frame design and geometry. Front suspension is provided by the brilliant FOX 34 Float Factory Air with Kashima coating and features 3-position compression damping with remote lockout. On the rear, you'll find a FOX NUDE, 3-position with Kashima coating too. Both work in absolute harmony and cope with even the toughest terrain. Directly below the Bosch-motor control unit on the handlebar is the new Twinloc remote. By activating the lever, which can be positioned like a left shifter, the entire 3-position suspension system can be regulated in synchronisation: Descend (full travel, open damping), Traction-Control (at the front: full travel but more damping, at the rear 130mm reduced to 90mm travel, more damping and steeper geometry), and Lockout.
Gearing on the 700 Plus Tuned uses the revolutionary new Sram EX1. Designed specifically with ebikes in mind for 2017, Sram developed the world's first tailored system to suit eMTBs with wide ratio 8 speed changing. Engineered for higher torque, this new system facilitates low cadence shifting. Changing gear on the EX1 is spot on, with the bigger ratios being quite apparent. The 11-48T cassette provides new territory, previously unexplored on an ebike, and acknowledges the need for less gears in eMTBs.
Scott have taken every opportunity to equip the 700 Plus Tuned model with factory spec components. Not only is the suspension Kashima coated, so is the FOX Transfer remote dropper seatpost. Furthermore, finer nuances of the bike include weight reduction via a titanium seat rail, carbon mini handlebar riser and carbon wrapped seatpost stem.